---
Why us?
At first, we know our business
For the time of our work we have been executed a fairly large number of works and you can have a look at their results in our photo gallery and in topic sections on our website.
Secondly, we are professionals
We have selected employees long and carefully so each work activity is in responsibility of an expert.
Thirdly, we guarantee the quality
We are responsible for the quality so we provide a warranty for all works and services — for 2 years from the date of completion. During this period we will eliminate all problems at no expense if they arise through our fault but this is generally uncommon.
What can we do?
New construction – execution of full package of works from zero circle to completion
We offer a full range of services involving designing, construction, reconstruction of frame houses, engineering systems of country houses as well as development of allotment gardens. All works (excluding minor works) are executed under the design documentation after its approval by the customer so it allows preventing lack of understanding, ensures the quality of works execution and conformance to the requirements of the customer.
Renovation – execution of full package of works involving modernization of existing country real estate objects or engineering systems
If you decide to improve your country house, cottage, to rebuild your engineering systems or accessorize your garden, professionals of Dachny Master company will bring your ideas to life in qualitative manner, at reasonable prices and right on time.
Reconstruction – execution of full package of works involving redesign, rework of old or unfinished objects or engineering objects
Reconstruction works are more complex than new construction because in most cases at first it is necessary to sort out basic data, then it should be optimized and only after this it is possible to proceed with rework. But our company completes this package of works with the highest quality at reasonable prices.
Mounting of engineering systems: execution of full package of works involving designing, repair of engineering systems of a country house
If you bewilder with a question of comfortable country living close to city living, professionals of Dachny Master company will help you with this. Electrical engineering, water supply system, water disposal system, your country real estate security system as well as smart home system can start up in your dacha as soon as possible at reasonable prices.
Maintenance service: execution of works involving maintenance of a house, engineering systems or an allotment garden
If you are short of time for appropriate maintenance of your dacha`s equipment and tendance of your garden, Dachny Master will be ready to undertake these functions and all equipment will run like a clockwork and a garden will look tidy and well-conditioned no matter when you will arrive.
A Few Words about Us
Dear visitor, first of all, we express gratitude to you that you have visited our website. We, Dachny Master company, specialize in construction, renovation and reconstruction of country real estate engineering systems (electricity, plumbing equipment, water supply, water disposal, Internet, telephone etc.) as well as works involving development of a garden, construction of household outbuildings and interior. Then a few words about history of the company.
Well, it all started in 2010 when we began to work on the first object. The task was to build a two-story house, an amenities building and to link up all engineering systems to the house. It was done from scratch what means that there were no any constructions on the garden except an electric pole. In two years of works above-mentioned constructions were built, a water well was dug and developed, water supply was organized, equipment for hot-water and cold-water supply was mounted, heating and external drainage system were installed. Then we executed works involving water isolation of underground accommodation, maintenance of TV and Internet connection, installation of telephone services, interior development (interfloor stairs and others).
In the course of our work people changed (some of them did so due to their qualification, others failed to bear the strain) but as the result a small team of professionals was formed and each of them knows his business well. Today in our company there are experts in the following fields: construction of frame houses, electricity, plumbing equipment, water supply and disposal. Internet, telephone, security systems and smart home as well as development of a garden. At the moment, the organization structure of Dachny Master company is the following:
Структура компании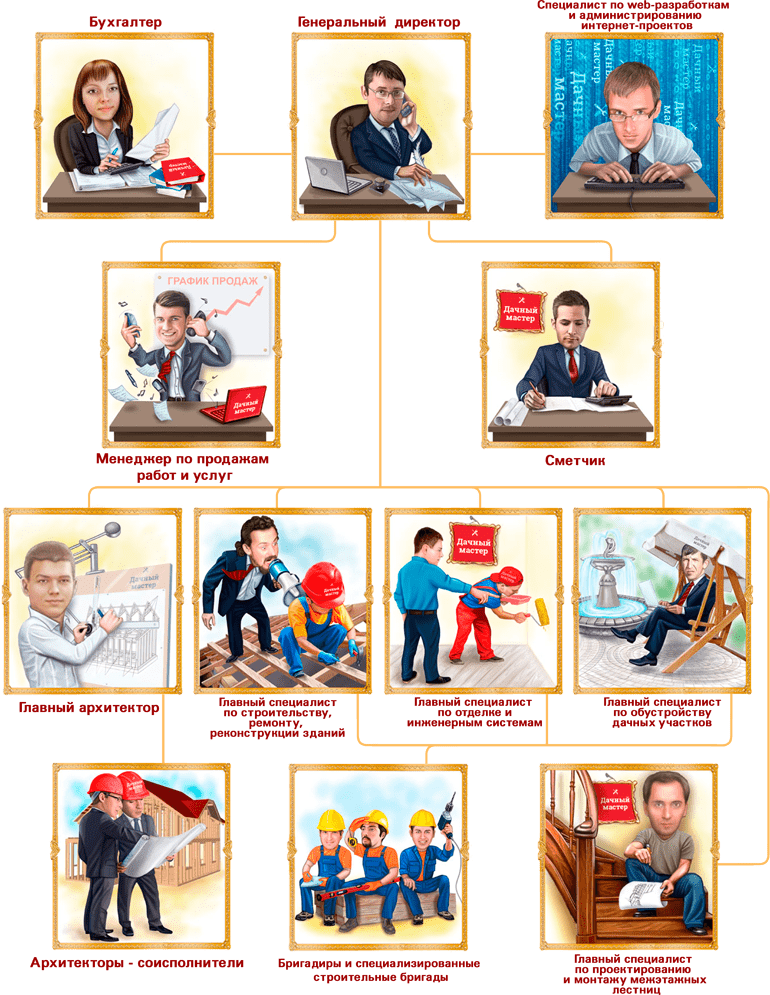 БЕСПЛАТНО!